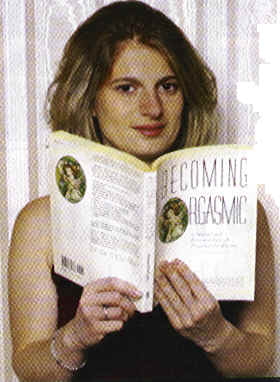 Wondering what gift to give a friend who is getting married or is newly married? We offer pre-marital counseling or relationship enhancement packages.
Responses from our sexperts.
As our name implies, How To Have Good Sex, Inc. is an organization dedicated to sex education, specifically sexual pleasure. It is our belief that "Pleasure is a mixture of physical sensations and emotions: savoring a delicious meal, playing tennis, or taking a walk on a beautiful day. Sensual and sexual pleasure result from an interaction between physical sensations and your thoughts, feelings, and attitudes. The particular combination of ingredients that evoke pleasure is uniquely "your own" (Heiman & Lopiccolo, 1988). Experiencing sexual pleasure is the process of giving and/or receiving sensual and sexual pleasure.
Within this sex education site you can read thousands of sex tips for free. Our sex tips, range from providing information on: how to last longer, which sexual positions are best for virgins, how to use sex toys, ways to increase your sexual pleasure, and ideas for Internet dating. In addition to answering your sex questions, we provide users with an online sex toys shop, free email accounts (yourname@ howtohavegoodsex.com), live how to have good sex seminars and a weekly newsletter dedicated to sexual pleasuring techniques.
WARNING: We do not pretend to be able to teach you how to have great sex. What we promise is to teach you how to have good sex. With the right tips, trick and ideas anyone (that is willing to practice) can have good sex. Great sex is a combination of technique, practice and chemistry. Ultimately, you will never learn how to have great sex just by surfing the web. Great sex, as any sexpert will tell you, requires a willingness to experiment, communication and of course, lots of practice! It is unrealistic to think that the first time you ask a man (or woman) out on a date, participate in oral sex, or use sex toys that everything will go smoothly. Great sex is about learning how to relax enough to enjoy the moment. Sometimes sex is funny, sad or erotic. As you read these tips, remember, great sex requires time, commitment and honesty. Ultimately it is only you who knows what feels good, thus, it is up to you to teach your partner about your likes and dislikes. Lastly, having good sex requires you to not only respond to your own needs, but your partners needs as well.
If you have any desires to learn about specific sexual positions or other topics within the field of human sexuality education, please contact us at alex@howtohavegoodsex.com and we will do our best to meet your individualized needs.